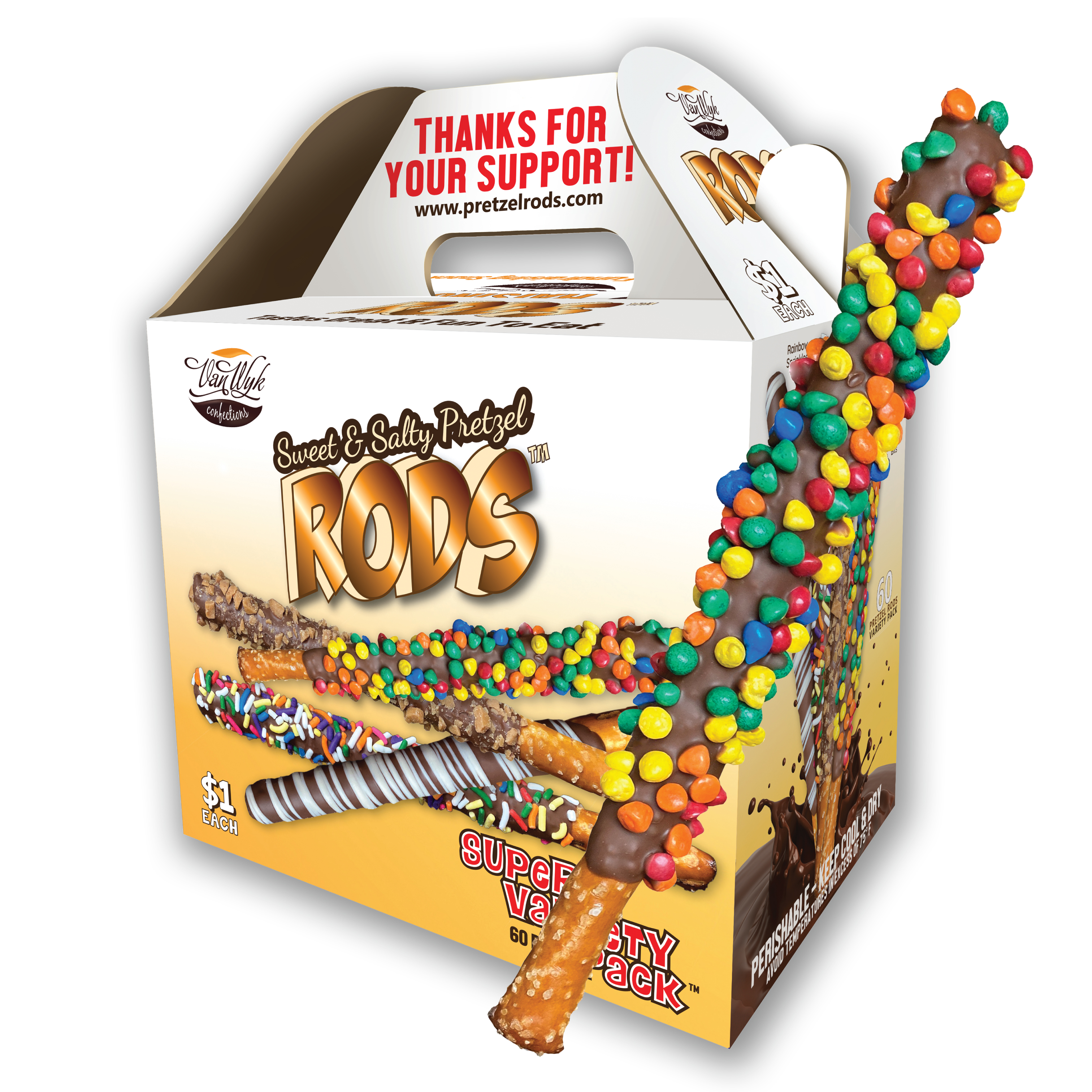 Details
240 Pretzel Rods Per Case 4 Carriers Per Case – 60 Rods Per Carrier Each carrier includes:

15 Chocolate Bits
15 Crunchy Toffee
15 Rainbow Sprinkles
15 Salted Caramel

Selling Price per item $1.00

Low Calorie Snacks – PEANUT FREE Pretzel RODS This is our SUPER VARIETY PACK – largest pretzel rods pack out there!

*Dry Ice/Refrigerated Shipping Expenses

When temperatures are above 76 degrees and we need to protect the chocolate from melting, there will be additional costs.

1-9 cases: $10 Per case
10-19 cases: $5 Per case
20-59 cases: $50 Per case
60+ cases: FREE SHIPPING Comes with 4 delicious flavors. Low calorie snacks that also taste great!
$1 Pretzel Rods
Item # 61024
Price per Case: $144.00
Quantity:
Description
Sweet & Salty Pretzel Rods are our most popular item. Now better than ever! THEY ARE PEANUT-FREE! Craving something sweet and salty? These will satisfy your cravings. Each rod is individually wrapped and come in four delicious flavors. Perfect for an after-school snack, stocking stuffer or Halloween treat. Sixty pretzel rods per box. 4 boxes of 60 per case. Order a box or a case today!


*Dry Ice/Refrigerated Shipping Expenses

When temperatures are above 76 degrees and we need to protect the chocolate from melting, there will be additional costs.

1-9 cases: $10 Per case
10-19 cases: $5 Per case
20-59 cases: $50 Per case
60+ cases: FREE SHIPPING