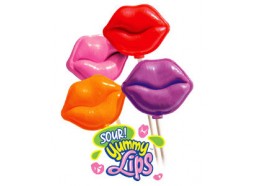 Details
*Minimum Order: 1 Case (8 boxes of 80 lollipops)
*Suggested Retail: 50-cents per lollipops
*Your Cost: 29-cents per lollipops
*No returns: Due to freshness of product

Yummy Lips Lollipops are free from nuts, tree nuts and gluten. They are allergen free!
Sour Yummy Lips Lollipops
Item # Product 42
Price per Case: $207.00
Quantity: 640 lollipops per case
Description
1.00 oz Sour Yummy Lips are available in six (6) lip puckering flavors:
Sour Apple, Sour Cherry, Sour Grape, Sour Mandarin, Sour Strawberry and Sour Watermelon.
*No Returns: Due to freshness of product